Tolman Skiff Hardtop
by David Nolan
Here's out quick and dirty Tolman Skiff hardtop.
Basic design of what we needed. We have 6 foot two and a half inches under the whole top standing on top of the stringers. Its relatively light and plenty strong.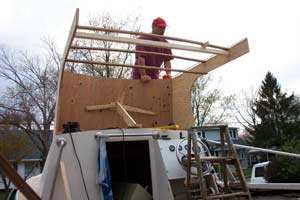 Framing (click images to enlarge)
Going on fourth season with our Tolman Skiff and we just love it. Adding outriggers and bigger fuel tanks soon.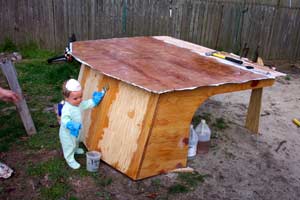 This guy's in charge of sanding and fairing
The hardtop was put together with Lowes 5/8ths ply for frames, glassed with 4 oz cloth and painted with EasyPoxy. 90% complete and we've fished it twice so far and love not getting smacked in the face with spray, winds, etc. It's all about utility for us and not so much good looks (whats all this talk about sanding and fairing)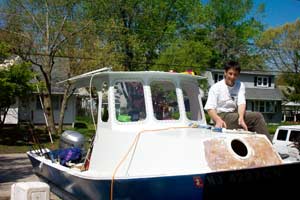 I think we MAY have used a few too many
screws in the lexan windows.
Added rod holders all over the place and rocket launchers on-the-cheap using PVC pipe driled and thru bolted to a 5 inch piece that is glued and screwed across the back of the hardtop roof.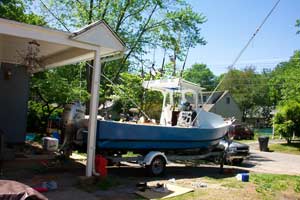 Fishkilla!
Added an Overton 24 gallon port side saddle tank and garage sale outriggers we snagged for $15 bucks.
Works great. We took it to Oregon Inlet North Carolina for a trolling trip. Caught 13 Dolphin to 15 lbs. 428 miles trailering and the boat tows nicely with the Silverado.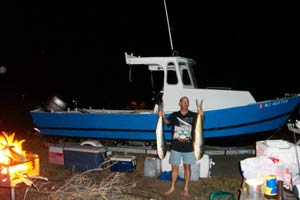 Some Dorado we caught
Oregon Inlet is on the Outer Banks near Mateo NC (near Kitty Hawk). They have a nice primitive campground acorss the way for $20 a night. Five nice ramps across the way and a giant bait and tackle. Gulfstream fishing is only 30 miles from the inlet there.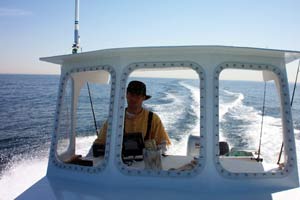 Gary driving the boat
David Nolan
Brick NJ
Tolman skiff builder