Meadowbird
Bill Tosh
The original design was by Sam Rabl, called the Titmouse - 15 feet...(quoting Rabl....he says "the design has heritage in English "canoe yawls" that are used for "sailing the broads"..This shape perhaps adds credence to the trational tale." .....later redesigned by Karl Stambaugh (Naval Arch). - 16 feet......that's the plans I bought. I have modified it again and reduced "everything" to 14 feet.....including all the lofting of bulkheads etc etc etc.....just to make it a little easier to handle (for me) loading and unloading.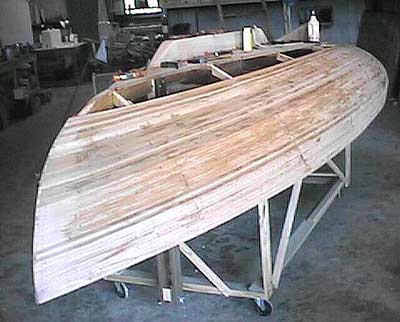 I really liked the Sparrow 12 and used it at Palacios last year, but it had one drawback and that was the 12" shoal keel......I had to anchor too far off the beach and wade in,,,,tough going....
The Meadowbird (I haven't renamed it/her yet) only has 5-1/2" keel and or skeg below the bottom, so I can get in a lot closer, or even beach it. It has a swing keel that gives about 30" of draft with it down.......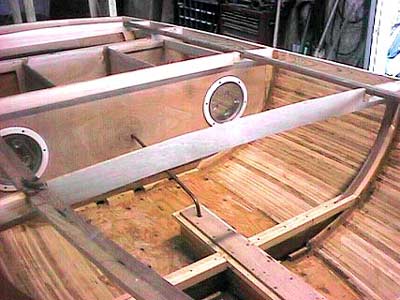 It could sleep two (close) but one is better with gear. Has kinda of a "pop top" cabin that is hinged in front and raised in the rear, for sitting headroom.
I'm hoping to hold the weight to under 600 pounds .....maybe 500 ....should make her quite "snappy".....
I started early this year, and have just worked on it in spare time (not much). The hull is "strip planked" with 3/4" wide by 1/2" thick Western Red Cedar with an overlay of glass and 3 coats of epoxy, and 2 coats of paint.
Plans call for ply or planked decks, and I plan to deck with 1/4 ply and 1/4 cedar or cypress and finish bright ......should look pretty good with the black hull. (I hope).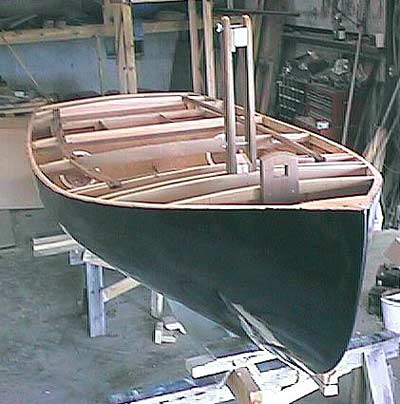 With any luck, I hope to be done before Palacios and maiden voyage at Lake Palestine.......rrr