Notes on making blocks
by Marston Clough
Notes on making blocks for my boat:
It was (is!) winter here in New England and I had time to work indoors on boat related projects, so I decided to try my hand at making some blocks for rigging as well as making the mast.
Some time back I had looked on the web and finally found that Dave Goodchild had fooled around with making his own blocks using plywood. I found this information at www.boat-links.com page 37 (and even then it was hard to find).
The Goodchild method uses two outside pieces of plywood for cheeks and two smaller pieces as spacers for the sheave. See my crude model.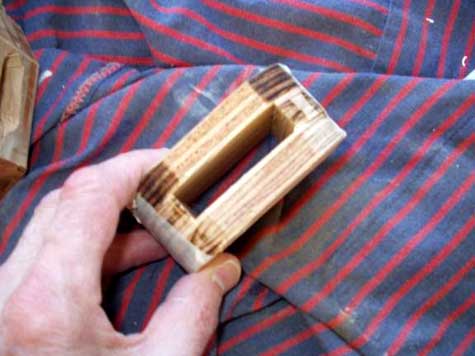 With that as a model I looked for a source of sheaves and found the Duckworks site and ordered a few of their affordable nylon sheaves. The Duckworks people were (are!) great.
My brother also found an article in Wooden Boat #41 that showed how to make a wooden block from a solid piece of wood. This is a good article. Brian Toss made a beautiful piece and I wanted to try my hand at that method even though I'm not a craftsman.
I took a chunk of 2x4 and made a crude mock-up.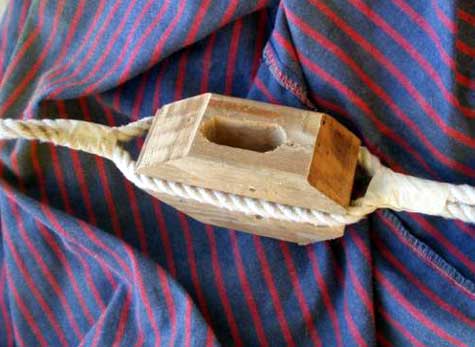 This mock-up is about four inches long and roughly half as wide.
Thus encouraged I bought a chunk of maple and tried to make a few blocks. I should have been a little more careful drilling out the cores because I didn't always get the holes lined up. You need to clamp the piece to keep it from moving around.
I drilled the core first, then cut grooves into the sides for the line to go around the block, then cut the corners and started smoothing. I first tried using a bolt for the pin but opted to try some bronze rod instead. I was going to try cotter pins to hold the bronze in place but had trouble drilling it, which was just as well because a closer look at the WoodenBoat article revealed that Mr. Toss relied on the line around the block to keep the pin in place.
I bought some line and reviewed how to splice two lines together. I've still got five more splices to make, but I'm encouraged by the result of the first one.