Australian Yakoo
by David Wallace
Some time back I wrote about building my first boat [Huntyak] and how I was already planing my next project even before finishing the first. I'd seen Richard Frye's Yakoo on Duckworks and loved the idea. A reasonably simple, light canoe for one person that was easy to paddle and cheap to build. I was hooked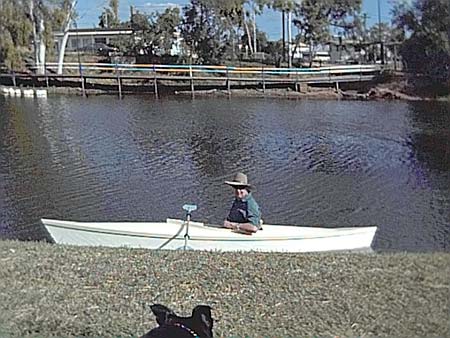 Within a week of finishing the Huntyak and getting it in the water I'd already started on the Yakoo. Once again the problem of living out in Central Queensland, Australia, reared it head. The local hardware didn't have any ply any where near suitable. Yes, I could order it but they didn't know when it would come in (last lot I ordered from them took months), so after a trip to the closest larger town (Emerald, 106 Km away) I was able to find some very good exterior ply.
So with Ply now on hand, epoxy and fibre glass tape ordered, it just left the Bronze nails. 20 + long distance phone calls later I found someone who stocked them. At just on $20 for a 250 gram pack they weren't cheap but I figured they would be worth it in the end. They arrived in the mail a few days later.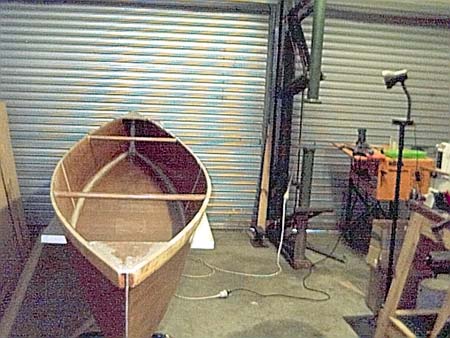 I built the standard Free canoe design from Bateau https://www.bateau.com/freeplans.php and then tried to work out where to put the cockpit from the pictures in Richards article. In hindsight I probably made the cockpit a little small for my size. I'm 6'2" and weigh in around 215 lb and am better suited to a more open cockpit. The one I built is around 3' long but the more open style is better for me with tackle box, drink cooler, camera and such.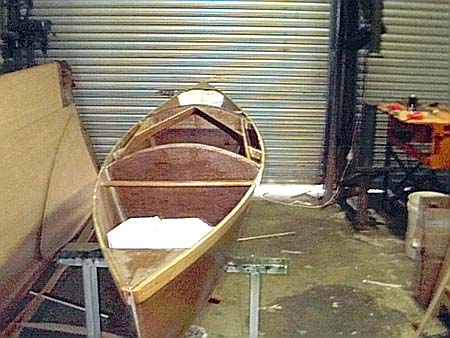 First launching of the Yakoo was a success. It paddled very well and was quite comfortable. With a clear varnish finish it looked very good. I'd made up a timber and ply seat and added a cushion - nice and easy and looked like it would do the job well.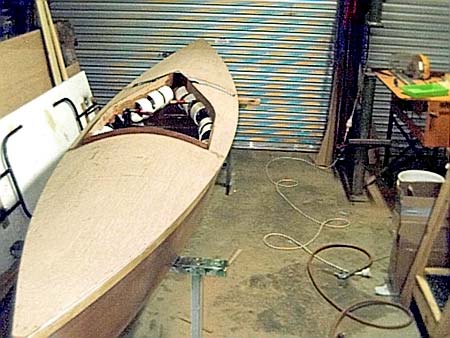 The first few trips to the Local water supply dam showed just how versatile the yakoo really is. I was able to get up small creeks and narrow gulleys that I couldn't even fit into with the Huntyak. One of the things that did stand out in the first few trips was that a clear coated kayak was dangerous out on a big dam with Ski boats about. The water colour in our dam is brown and the woodgrain finish just blended in like camo so a change of colour was necessary. It doesn't look as good as the clear but it's much safer. After a few narrow misses with ski boats you find that your jocks are the same colour as the water [Chocolate brown], not good.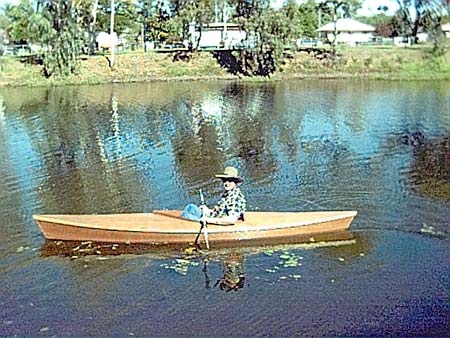 Since those first trips I've done many more in the Yakoo and I'm still impressed with the design. One problem I do have though [and it's the same with all my canoes] is seats. After about 16 km my backside goes numb - after 20 km the feeling comes back and that feeling is pain. So if any one has any suggestions for good seats that are cheap to build that don't cause discomfort after a few hours please let me know. Drop me a email at swallace@matilda.net.au