Make & Make Do
About the Author
Rob Rohde-Szudy, like many Midwesterners, is a "self-made sailor". Though his father knew how to sail, the demands of supporting a family in leaner times prevented his passing the skill on. Rob got interested in boats in the late 1990's, and true to his modus operandi started reading everything he could find on the topic. The year 2000 saw his first child and his first boat – a homebuilt Michalak Piccup Pram. After three years of learning the advantages and disadvantages, and having a second child, his wife suggested a larger boat. So 2005 brought a Bolger Light Schooner.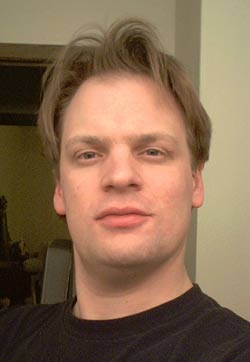 Like any home boat builder, Rob has a yard-long list of boats yet to be built. It will take a while, since he generally only builds boats when taking "thinking breaks" from his main talent as a musician. Fortunately for readers of do-it-yourself articles, Rob is currently enjoying a life that allows free time for boating, building and writing.
Rob holds a degree in Music Theory and Composition and has experience editing college textbooks… which is why he works as a secretary. He lives in Madison, Wisconsin with his wife and two daughters.
From the author
"I have always been bothered by waste, and nowhere is there more waste than the boating world. At least it seems that way to me. I don't necessarily mean the giant deep-V power cruisers with two V-8 engines that tear around the lakes burning half of Alaska's oil per hour. That waste is obvious. But I mean all those boats of many different types that sit there in the marina soaking up space and money every day, giving back very little to their owners.
"I think the root cause of this malady is the characteristically American focus on what you want to have instead of what you want to be doing. A big, complicated boat definitely reduces the time available for actual doing.
"Of course I am hardly the first to remark on this. But rather than dwell on the problem, I hope to move on to tangible ways to get more out of boating. In some articles I'll be covering trips that the average person can afford – I should know on my below-average income. But probably the majority will be dedicated to ways the average handyman can improve his boating experience.
"(By the way, I always mean "handyman" and "his" as gender-neutral when used in the general sense. Please read them thus.)"