The Last Day of Winter
by Richard Frye
Well first of all I'm glad to be back in the picture again and on the water after several months of illness and then recuperation from the quintiple by-pass. After sweet talk'n Chrissie... she agreed that we should go down to the Monongahela River to check things out since I had been grounded by doctors and her since January 5th.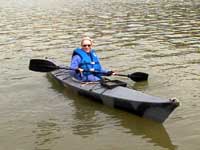 Where we were going is like almost downtown Pittsburgh on the south side...and it was my idea to take a boat along.......just in case you know! I was feelin pretty good and have been cooped up long enough ..... and ... it turned out that we took 2 boats as she wanted to play around in the water a bit ... since she had become the sole owner of the Stealth.
I have to admit, the weather was fairly decent fer this part of the country ... and in the high 50's. So it appeared we were actually going to get in a winter kayak trip on what is officially the last day of winter. Hmmnm ... maybe some of my crazyness had rubbed off on her!
........... I like it!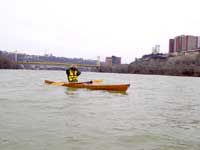 A bit of sun did show up but not for long. After carefully launching the
Stealth and the Goldeneye at the 18th Street landing that is being redone fer an upcoming bass tournament, I kept a close and watchful eye on those dreaded geese! Yep, there wuz a bunch of them things all along the bank honk'n and squawk'n makin me wish I had my .22 wid me! But you can't do dat stuff in the city of Pittsburgh without the United States Coast Guard and a local swat team coming down on top of you! Beside...folks come out there with grocery bags full of stale bread just to watch'em go nuts .... eatin as much as they can! I think these geese are the ones that hung around all winter ... which proves right then and there that they could be extremely dangerous critters .... you know ... by not wanting to go south and all like a normal goose would! What this means is their mind or goose brain is off balance too to put it plain and simple .... or they ain't got both oars in the water! I figure a person who stays in the part of the country throughout the cold and dreary winter months must be mentally tetched a tad in the head! Yours truly included...but everybody knows I have a mental problem anyway or I wouldn't be here in the first place.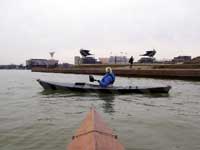 Chrissie settled into the ole Stealth like a natural and instead of just playing around the landing, SHE ..... I say again SHE suggests that we should take off to what is call the "Point" to Pittsburghians which is about 3 or 4 miles away! This is the famous place where the 3 rivers join. Allegheny, Ohio and Monongahela. Well hell,.. dat was fine wid me but this was her first time out and I was a might concerned and not even sure if I could handle it or not. After all I was opened up like a filleted salmon and had been glued back together! I gotta get me some of dat glue! It's called Dermabond. I asked the doctor about it ... but I doubt it would be any good fer building a boat! Anyway.. Chrissie has a fair amount of experience in a regular canoe but this time she was in her own kayak and about to embark on what turned out to be a fantastic day trip. As we didn't have a 3rd party to take pictures, we swapped the camera back and forth to take pictures of the scenery and each other. Our adventure turned into a 4 hour plus paddle trip and mostly cloudy, but great to be out.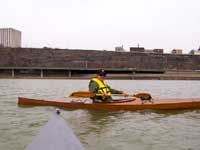 The river conditions were mild in the beginning but when the wind came, it got a bit on the rough side. We got ... well I got to play in the wake of a huge barge that is an ever familiar sight on the river. She wasn't too fond of the idea but folks that know me know that I like waves. Later on it got mild again. I felt all the signs of cabin fever leaving! At last I was getting well in more ways than one! The aftermath of the heart surgery still has me moaning an groaning and bitch'n once in a while from the normal soreness, but otherwise I feel pretty damn good and will be ready for a 20 mile trip pretty soon. Right! Well maybe 7 or 8 miles if'n I'm having a really good day and take lot's of Tylenol! Yep ... still sore as hell!
Well the trip downriver was uneventful and Chrissie was getting used to her boat as I gazed at the sludge and crap along the banks left from the severe flooding, and just shook my head. What a mess! This is a pretty river as long as you don't look at the opposing banks with all the debris. But ... as with most rivers running right through a city there is going to be all kinds of trash and such just from normal day to day activity. Enuff of that ... pisses me off just thinking about how our waterways get messed up!
Wasn't long before we were crossing under various bridges in the "City of Bridges" ... like the, 10th Street Bridge, Liberty Bridge, Smithfield Street Bridge then onto the Station Square and right past the infamous Gateway Clipper fleet of paddle boats that offer dinners, rides, and trips all the way to New Orleans if you are up to it! These river boats have a terrific history that I won't get into now ....so we'll talk about them later concerning their origin, purpose, and all for this part of the country.
We viewed the inclines that go up Mount Washinton to give you a spectacular view of the rivers and city of Pissburgh! Oops ... did I misspell something? Naw .... I was right the first time!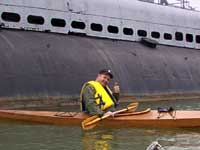 Now further on down the river we finally reached the famous "Point" and fountain that were not turned on this time of the year after crossing under the Fort Pitt Bridge. We paddled past the "Point" and crossed the mouth of the Allengheny River were it joins the 3 Rivers area and ventured across to the Carnegie Science Center. This is where they have an old WW II submarine call the Requin with a couple of other fairly large boats moored near by ... and something else we didn't know is that they had a thing going on about trains and a celebration for the wonderful but late Mr. Fred Rogers as well as several other things. I wish I had know about that earlier. He was a favorite in my book!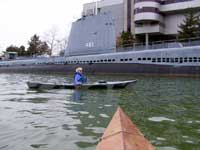 Off to the side and or to the north behind the CSC was the new Heinz Field for major sports events. There was a lot to see just sitting in the boats and looking around. Chrissie was realizing that now she was tired and we still had to go back UP the river, then load the boats before we could go home!
In all the trip wasn't bad and we both greatly needed this type of outing. She did absolutely wonderful for her first time out paddling and it was nice to know that she can be a tad nuts like me! Ain't that great! I love it! I did promise a winter kayaking trip and although a short one .... this was it ... and officially on the last day of winter.
By the way .... this morning .. the first day of Spring ... and we saw our first Robin togther so it must be right around the corner! Now that I'm out of the shop and all fixed up there will be many adventures ahead! Hope to see ya'll on the water soon. Take care now!