Navigator
Hi:
There's now another Navigator cruising Sydney Harbour and the Hawkesbury. I finished building 'Jabbawok' not so long ago and have had quiet a few a good cruising days thus far. She gets plenty of attention at the boat ramps and comments from other sailors as they sail by, people seem drawn to her fine lines. All my friends (and quite a few of their friends) are lined up waiting to get out on the water in Jabbawok. Weather permitting I should be able to clear the backlog with a few months, everybody is keen even though it is now Winter.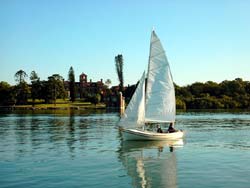 Click images for larger views
As you can see Jabbawok's sloop rigged with a slightly larger mast than the specs suggest. It didn't feel right to go cutting into a perfectly good mast. Its a rotating 'Cobra Cat' mast (7.3m) with a cut down A-Class sail, the foot is a bit smaller than spec so the sail area is about the same. I'm very happy with the main, but the jib is a little small and I have been on the lookout for something more suitable. I've had her out on the harbour in winds up to 20kn, she really flies in these conditions. She's a bit tender at this wind speed without reefing, but so long as you keep your eye out for gusts it's all good.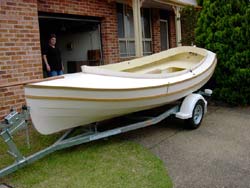 She seems to be quiet fast through the water, we recently sailed past a bunch of racing Lazers and Sabots. We easily outpaced the kids in the Sabots, we kept pace with some of the Lazers, but were outpaced by others.
Thanks to John Welsford for a great design and hopelfully Jabbawok might inspire a few more Aussies to build a Welsford craft.
Cheers
Steve Macare