| | |
| --- | --- |
| Minnesota Gaffer Gathering | |
This event is interesting in that it shows how a messabout can evolve. Bill Paxton held a Minneapolis Messabout in 2004 on Lake Nokotomis, which is in the City of Minneapolis. I was starting to have enough free time to attend such events. So I asked him if he was doing it again, since it is not too far from where I live. But I did suggest finding a lake where camping was available, in keeping with what I might call the "Michalak guidelines for messabouts".
Bill read Jim's hints and accordingly moved the 2005 Minnesota Messabout to Lake Pepin, an impoundment of the Mississippi River. It was the perfect setting. A small city nearby to furnish groceries. A really nice campground with civilized showers and campsites on the waterfront. A lake of just the right size – big enough to go somewhere if you want, but small enough to keep the waves mostly under control. And of course beautiful rock outcrops watching over the lake.
Unfortunately, I didn't have my boat done in time!! I barely managed to get to Rend Lake the following week, and was still rigging the boat at my campsite.
So I read all about the wonderful time I missed in Minnesota, and couldn't help but notice the high proportion of gaff-rigged boats in attendance. Mostly Stevenson Projects Weekenders. Stevenson must have made a killing in Minnesota. Given my difficulty getting used to the gaff rig, I suggested holding a "gaffer gathering" to swap notes on how to run these things. Bill thought it was a fine idea and ran it through the Weekender gang up there, and came back with a date!
So in this example we see how a theme that matches an existing audience can help an event take off very quickly. A nice setting certainly doesn't hurt. Here are a few photos of the lovely drive up US-61 to Lake City, MN.
So who was there?
Bill Paxton and his wife Nancy brought their open weekender, Surprise, also pictured at the end of this article.
The relatively average beam of Surprise reminds me how narrow my Light Schooner is.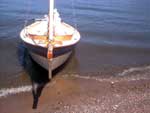 Jeff, Joan and Mike Tam brought their weekender Three Cheeks.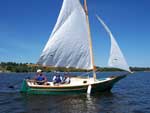 The interior finish is really nice on this one, and I like the tiller steering mod…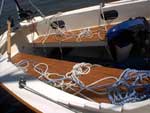 …and the homemade wooden blocks.
Dave Richards and his wife brought their Weekender Julie K. (I completely forgot Dave's wife's name. Sorry!)
The interior is really nice on that one too.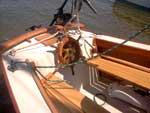 John Metzner brought his Weekender As You Wish, built when he lived in Alaska. I don't think the photos really capture the startling orange he painted it. I have a feeling that in Fairbanks you truly need that kind of color to get through winter.
In the same spirit, As You Wish has a cool yellow steering wheel.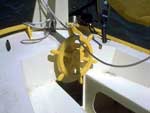 Craig Bursell brought his Stevenson Projects Skipjack Black Bark. It was also very nicely finished, but my photos of the interior didn't turn out too well.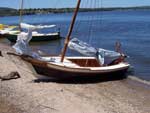 Colleen and I brought daughters Thalia and Rhea, coon hound Reggie, and our surprisingly crowded Bolger Light Schooner Kolumbis.
Almost universally, the first remark on the schooner was, "Wow, that's a long boat!" This was nearly always closely followed by, "That is a narrow boat!" It is certainly fast, though, even with the hastily sewn sails and haphazard trim seen above. If you think I'm just being modest, note the crooked luff of the foresail. It's not hoisted wrong. It's sewn wrong. But it seems to work well enough to windward, so I guess I'll tolerate the slovenly looks.
There was also Steve O'Rourke, who came boatless. He is building a Weekender and sailed with Bill and Nancy, and I think also with John.
Coming Without a Boat
I think this is a really important point. You don't have to bring a boat to these events. Most messabouters are more than happy to gain a captive audience who isn't tired of listening to them go talk about their boat. I personally welcome boatless folks to come for a ride and give my wife a break from listening to me. And I know I'm hardly alone in that. From the standpoint of the boatless, this is a very cheap weekend and there is no better way to get to know a boat design than being in one on the water. I spent maybe $150 to drive 3.5 hours each way and camp for the entire weekend with the whole family. If I'd come in the car, without the boat and trailer, it would have been no more than $100. Probably less. I should also point out that there is no better way to involve your significant other from the very beginning with choosing the design. This can avoid expensive mistakes.
More Photos & Details
The setting is beautiful at Lake Pepin.
Hok-Si-La Municipal Campground, north of Lake City, MN is really nice. Here's a view from our campsite.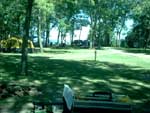 They even deliver the firewood to your campsite. I must also show the rather nice launch ramp, Kolumbis and I think Three Cheeks getting set to go. It's about 10 minutes walk from the campsite we were in if you're willing to follow the shoreline and wade through a shallow inlet. The time is a guess since I wound up stopping to talk to people in both directions.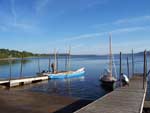 This event was a daysail only arrangement, my family being the only one to camp overnight. I think everyone but my family came from the greater Minneapolis area. The usual discussion session was held over a bring-your-own picnic lunch on the beach.
Halfway through lunch, the dreaded upstream wind sprung up and steep 1.5 foot waves were beating the boats against the exposed beach. Just around the corner my masts were not even moving. So I helped Nancy carry the lunches around the point while everyone sailed to the more protected beach where I was parked. (Do not imagine, however, that I somehow predicted the extremely unpredictable wind. I just got lucky!) Fortunately, this also allowed us to photograph all the boats together.
Lots of rigging!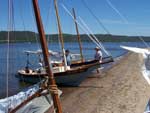 As they were setting off, I got to watch the unusual dance done by Weekender sailors as they balance themselves while getting into a boat balanced on eight inches or so of fixed keel, itself balancing on the bottom of the shallow water. I suppose that's the tradeoff for not needing to mess with a daggerboard, centerboard or leeboard of any kind. I probably should have made some attempt to determine how much windward ability is lost with such an arrangement, but my hastily-sewn polytarp sails and sloppy sheeting might not provide such a good comparison with their professionally-made sails and neat sail handling. It also wouldn't be a one-to-one comparison given the schooner's smaller beam and greater length. Any lifting foil will be more efficient at higher speed. Most importantly, though, I didn't even think of it until I got home.
I wish I could have recorded all the conversations, since I know there was good stuff I missed. The conversations I was directly involved in were plenty worthwhile, though. I discussed Kilburn Adams' wisdom on lug rigs and their possible advantages over gaff rigs with…boy, I can't remember who it was. Hopefully he'll read this and remind me. I think it was Steve O'Rourke. I also discussed the disadvantages of wheel steering with John Metzner. We did a little brainstorming on how to make a remote system that reacted more like a tiller. More on that in a future column, if I ever get it worked out. We also discussed his very cool hand-powered fog horn. He got it for like $18 from larkinthemorning.com. They also have old-fashioned lung-powered fog horns. Mind you, I have no idea whether the Coast Guard approves these or not.

Overall, it was a very successful event. Many thanks to Bill for contributing some of the photos seen in this article, for being able to organize such a thing, and for being able to host two events in one summer!
Rob Rohde-Szudy
robrohdeszudy@yahoo.com