I keep harping on the point that I consider the best candidates for "cheap power" to be OMC products; either the "flagship" Evinrudes and Johnsons, or some (but not all) of the Gale division products.

A recent column addressed the Mercurys and my reasons for suggesting that the cheap-power seeker generally avoid them.

This column will address some of the other brands of outboards that one is certain to run-across while out searching for ancient aluminum.

Outboards during the 1950's where a lot like personal computers during the 1980's; there were lots of companies selling them (if not always making them.) And just like computer brands of the 80's (remember Sinclairs?) most of the old outboard brands have disappeared, along with many of the sources of parts and service info. for them.

What few parts are available for these old outboards are mostly N.O.S (new old stock, meaning something that has been laying on someone's shelf for the last 40 or 50 years- what are the odds of a 50-year-old rubber pump impeller still being "good?") and usually expensive.

Occasional exceptions occur; from the late '40s until the early '50s, the national Pressure Cooker Company made and sold Martin Outboards. Sufficient interest exists among collectors of this brand that a sole proprietor in Nebraska is able to "make a go" of a business providing N.O.S and a few newly-manufactured parts for these engines.

One will find no one, however, supplying parts for a Flambeau outboard, The Flambeau was probably the original "low-profile" outboard and it's years of manufacture about match those of the Martins.

Champion outboards were sold from the end of World War II until about 1958, under the Champion name and also under the Voyager and Majestic names. Champion outboards were also whole-saled to B. F. Goodrich for sale through their tire stores under the Sea Flyer name. Finding parts for a Champion today would be a chore.

Sears Elgin outboards are often seen. These were manufactured from the end of World War II until the early '60s, mostly by the West Bend Aluminum Co. West Bend also sold outboards under it's own name until selling out to Chrysler in the mid-60's. Chrysler, in turn, sold out to Bayliner in the mid '80s (Force Outboards) and now Force is gone, although Brunswick (parent company of Force, Mariner, and Mercury) still has parts for later Forces available. But forget about easily finding parts for a West Bend or an old Elgin.

Then there are Scott outboards. Orignally named Scott-Attwater, and later named just Scott after the company was sold to McCulloch (the chainsaw people) a few new parts are available through aftermarket supplier Sierra, but the few parts available are more expensive than comparable parts for OMC's or even Mercurys. McCulloch got out of the outboard business in the early 70's, and by then only made a very few models anyway. By the way, if you happen to run-across a 50's outboard called a Corsair, or an outboard bearing the Firestone Tire brand, you are looking at a Scott

Possible exceptions to my recommendation to avoid weird brands are the Clinton and Eska air-cooled engines (NOT the water-cooled big 9.9 and 15 hp Eskas). These engines, which usually sell cheap and are fairly easy to find, can provide a reliable source of power for those seeking less than 7.5 hp Good reading on these engines can be found at Jim Michalak's website in his annual "messing with outboards" newsletters; he never ceases to be impressed with the economy of operation of these thrifty engines, and has even been the recipient of 'free" ones.

For ease and economy in finding parts and service info, I really believe that the "orphan" brands are best left to the outboard motor collectors. If, however, you already own one of these things, I would direct you to the website of the Antique Outboard Motor Club (aomci.org) for links to possible sources of parts and info on these 'collector's motors."

Later

Max
PHOTOS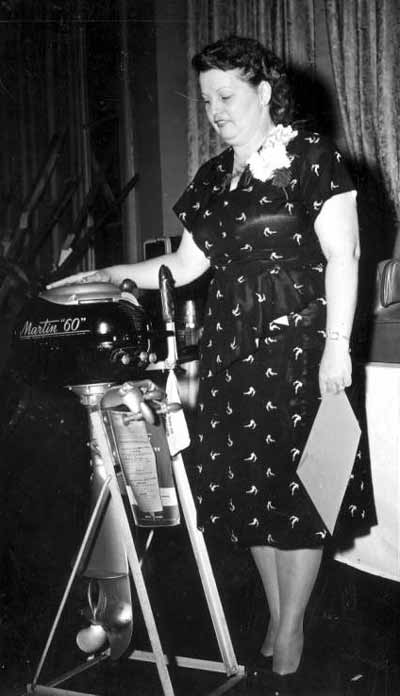 This nice lady is very proud of the Martin outboard
that she has just won in an early-50's contest.
But if she still has it today, she will find but one reliable
source of parts for it, but that is one more source than
can be found for many "orphan" brands of outboards.
| | |
| --- | --- |
| The Flambeau, made from about 1946 until the mid '50s was probably the first "low-profile" outboard, and featured a number of engineering intricacies that make it attractive to collectors but not to cheap power seekers. | |
| | |
| --- | --- |
| | Champion liked to promote the durability of their outboards, but what they did not mention in their advertising is that often they would apply the various "endurance" tests to quite a number of engines and if just one lasted through the ordeal, that was the engine featured in the advertisement. |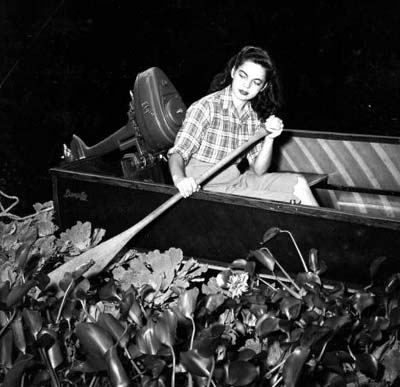 This is obviously not an Elgin advertisement, as the woman wielding a paddle does little to promote the outboard bumming a "free ride" on the transom.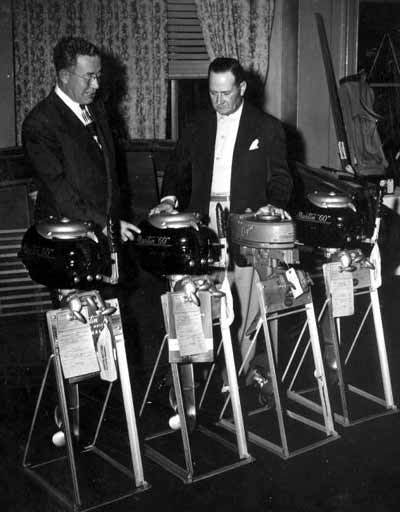 The prizes in the contest mentioned in the first photo include
three Martins and a lonely Elgin.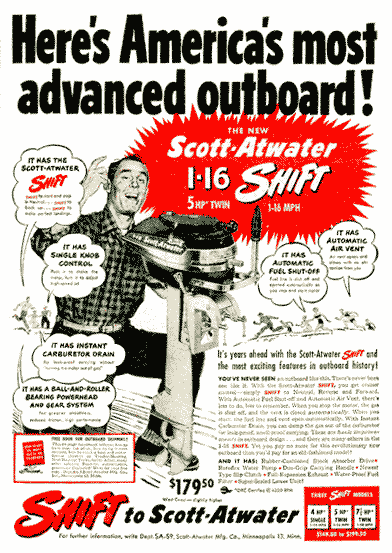 Scott-Attwater outboards featured three models with
full gearshifts in the year that market-dominating OMC
brands Johnson had but one, and Evinrude had none
(1949) (click image to enlarge)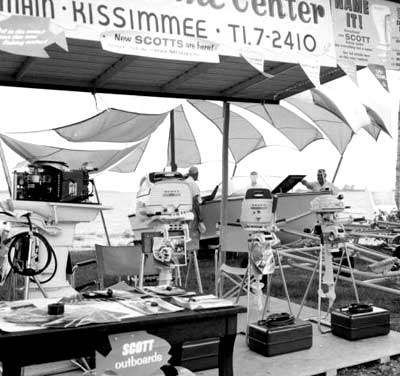 An early '60s Scott dealer displays his wares.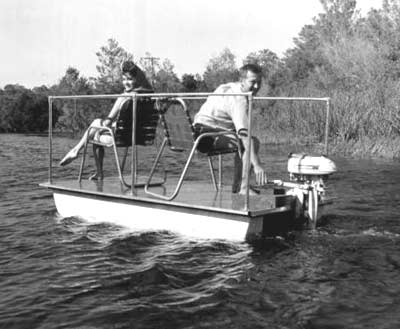 Looks like a Scott but might be a Firestone, manufactured
by Scott and marketed through the tire maker's stores.
I like the boat.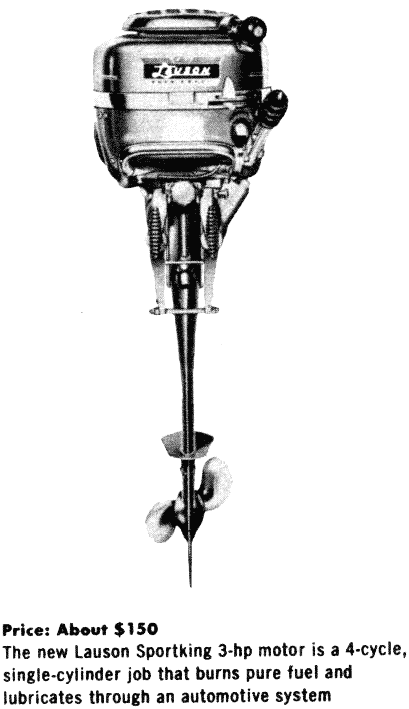 In the "nothing new under the sun department," here is
an early '50s 4-cycle Lauson outboard.
| | |
| --- | --- |
| | "Neptune Ned" sez ya should buy a Neptune outboard. Unfortunately, Neptune pissed-off their dealer organization back in about 1950 by offering to sell direct to the public. Sales plummeted as dealers dropped the brand, and Muncie Gears Works shut-down production of Neptunes for about 4 years. They then began selling Neptune Mightly Mite outboards only via mail order through advertisements in the likes of Life magazine, Boys LIfe, etc. I hear you could win a Mighty Mite by selling a lot of subscriptions to "Grit" magazine. |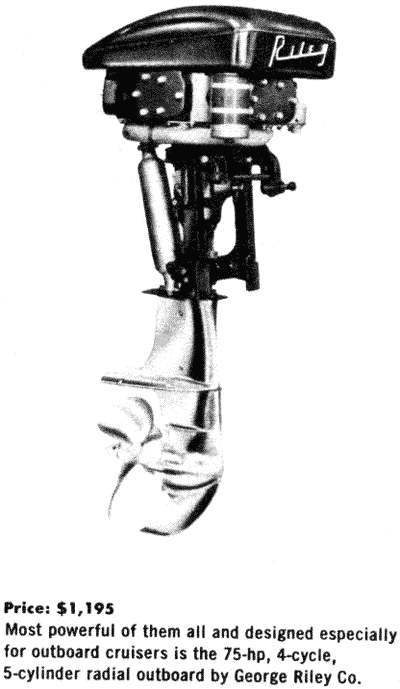 Now, this is genuinely weird; a truly massive Riley
outboard, made for only a few years in the mid-50's
when the biggest offering from Mercury was 40 hp, and
the biggest OMC outbard was 30 hp. Few of these were sold
so I doubt you will ever trip over one.
| | |
| --- | --- |
| Yep, even Chris-Craft made "weird" outboards. Parts are a bit hard to come buy and a bit pricey, but it really does not matter since the outboards themselves are a bit hard to come by a bit pricey. Collectors LOVE Chris-Craft outboards. Rumours are that production of the two Chris-Craft model outboards was shut-down shortly after it started under threat of patent litigation from Mercury. Don't know how true that is. | |

Is this a "weird" brand? Actually, it's made by the Gale Divison of OMC and you can read about it in the "Gale Warnings" column.

(click to enlarge)