Messabouts & Raids:
July 10& 11 - Washington - 2004 Small Boat Rendezvous

July 22-25 - Maryland - BYYB Multi-Fleet messabout

Sept 25-26 - Texas - Palacious Dinghy Dash

Inviting anyone who wishes to come to our 2nd messabout at Spirit Lake in NW Iowa. Looking at one of the 2 middle weekends in August to hold it. I would like some feedback so I can set the date in epoxy (ha!). It would start on Saturday morning and end after lunch on sunday. That should give most time to get home for the monday drudgery. Email me if you are interested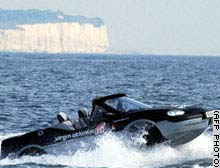 CALAIS, France (Reuters) -- Entrepreneur Richard Branson has set a new world record by driving across the English Channel in an amphibious sports car in under two hours.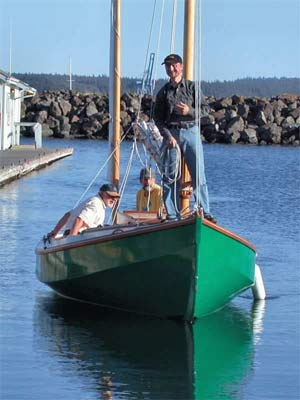 New issue of Chebacco online at
https://www.chebacco.com

I'm selling blowers, motors, controllers, pyrometers. Working on adding burners, and have some other ideas.
"Hey, look what I found!"
Visit my eBay store: https://stores.ebay.com/Richardsfoundry
Richard Spelling



Chuck I happened across the web site below https://oboylephoto.com/boatyard/index.htm
Eric Schadow



Palacios TX Dinghy Dash - Sep 2004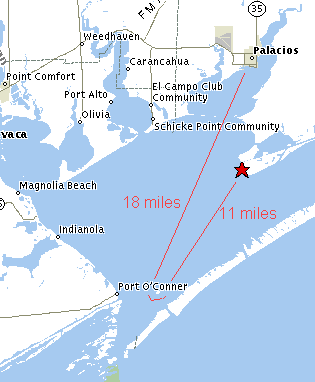 We are having a casual cruise / race where we sail out to a beach and camp there overnight, head back the next day. The race is 18 miles out to an island, 11 miles back to our beach, camp at the beach overnight and sail 7 miles back the next day.
People not interested in the race portion are welcome to just sail out to the beach to camp with us, there is a launch ramp only 1.5 miles away.
Full info about the event here:
https://www.shortypen.com/events/ddash/

Shorty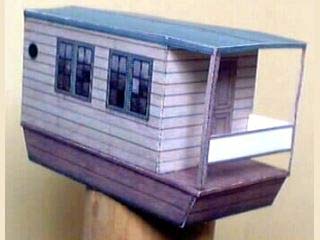 Dear Chuck,

Check out this paper model. Its a free download.

Tom Beck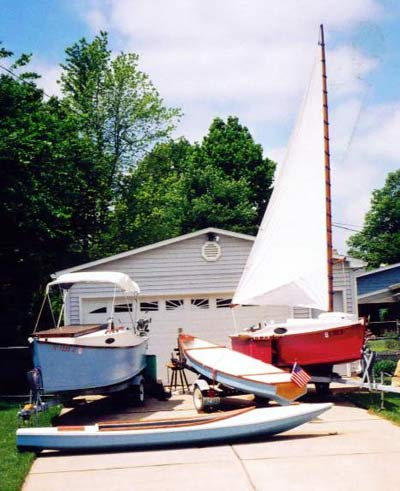 Hey Chuckie !

When "commisiong" this spring, I took the opportunity to take a couple of photos of the "fleet."

Left-to-right; AF4, Oracle, AF3, with Larsboat sitting in front.

All four boats were built in a 3-year period from Oct. 2000 to Oct. 2003.

Later !

Max


Makeshift boat takes man's life
(from the Los Angles Times Herald)
by J.M. Brown
A Vallejo man drowned in Lake Chabot early Thursday as he and another man were illegally testing a makeshift boat that reportedly contained two go-cart motors and an airplane-like propellor, sources said.
The Solano County Coroner's Office identified the drowned man as Dale Hurd, 41. An autopsy confirmed the cause of death was accidental drowning, coroner's official Brian Miller said.
Police say they are treating the death as accidental, but will continue to investigate.
When Authorities arrived at the lake near Dan Foley Park shortly before 3:15 A.M. they saw a man on shore conduction CPR on Hurd, police said. The survivor's identity was not available, and it is not clear if he was cited or arrested in connection with the boating incident.
Boating in Lake Chabot is not permitted, fire department spoksperson Bill Tweedy said.
The boat the two men were testing was submerged in the lake about 100 feet from the shore when authorities arrived.
Tweedy said the two men were test driving the boat when it turned over. An area resident heard yelling and called 911, Tweedy said.
Hurd was taken to Sutter Solano Medical Center, where he was pronounced dead.
A man who lives near Dan Foley Park said he was walking his dog at about 10 A.M. when crews were pulling the capsized boat from the lake.
The resident, who wished to remain anonymous, said the boat contained two go-cart motors stationed on top of a roughly 4-foot stand attached to a large wooden airplane propellor. The base of it was a flat bottom aluminum duck hunting boat.
"They put ti together like a prototype," the resident said. "Even the gas tank was jerry-rigged with plastic tape to the boat."

Late entry for girl in a boat contest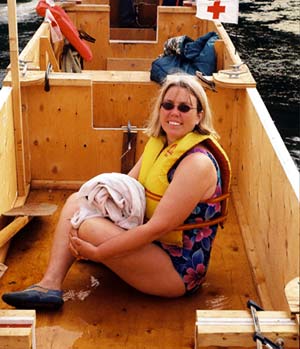 Janet Ruth Young, boating enthusiast and author, aboard TIMS at the 2003 Kingston Messabout in Ontario. Janet's novel, The Opposite of Music, is due out in 2006.
Lincoln Ross



A QUIET BREAKTHROUGH:
RYOBI INTRODUCES NEW 10" BAND SAW
WITH SILENT VAC-DUST COLLECTION
Powerful 1/2 HP Motor & Blade Tracking Window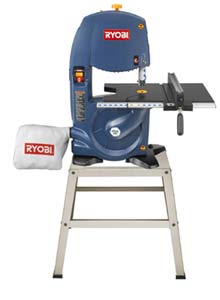 ANDERSON, SC, (June 1, 2004) – Most benchtop tools give you a no-win choice: either put up with wood dust, or live with the howl of the shop vac that sucks it away. But now Ryobi quietly solves the dilemma. Ryobi's new 10" Band Saw with Silent Vac-dust collection, Model BS1001SV, removes dust with 98 percent efficiency – and no noise beyond that made by the saw itself.
The secret? The BS1001SV Silent Vac incorporates a radial fan in the lower wheel to create a highly efficient, gasket-sealed dust collection system that pushes dust into the included dust bag through a 2-1/4" vacuum nozzle outlet. Score another user-friendly "first" for Ryobi.
A wealth of additional features make this new saw a must for the serious woodworker. Its powerful 1/2 HP, continuous-duty induction motor cutting at 3,000 FPM handles the hardest woods with ease, and its 10" throat swallows sizeable cutting tasks. Pro-style independent upper and lower ball bearing blade guides promote cutting precision while extending blade life. Ryobi's exclusive RapidSet blade tensioning system makes quick blade changes easy. An innovative, illuminated blade-tracking window lets you ensure proper blade tracking on the wheel as the BS1001SV runs, and this saw accommodates blades up 1/2" wide.
High-intensity LED work lights built into the BS1001SV aid precision cutting. Its tilting saw table (-2 degrees to 45 degrees) expands to the right of the blade for an 18-1/2" cutting capacity (table size 13" x 21-1/2" x 26-1/2"). The saw's heavy-duty, self-aligning rip fence with scale indicator window eliminates the need for out-feed support.
This new Ryobi band saw has a 4" depth of cut with smooth rack-and-pinion blade-guide height adjustment that quickly adjusts to the work piece height. It also features easy access for changing blades and a built-in brush that cleans the drive wheel, improving tracking and wheel life.
The BS1001SV includes a work stand for convenient set-up, and weighs 82 lbs. with stand. It will be available at The Home Depot this July for under $200.
As with all Ryobi power tools, the Ryobi Model BS1001SV 10" band saw with Silent Vac dust collection has a two-year limited product warranty and a 30-day no-risk satisfaction guarantee.
The blue color used on this product and the combination of blue and yellow are trademarks for RYOBI® brand power tools. For more information, customers can visit the Ryobi website at www.ryobitools.com or call Ryobi Technologies, toll-free, at 1-800-525-2579.

Hierarchy of Epoxy Paints and Coatings
By Paul Oman
copyright 5/04
It has been our experience that epoxy paints fall into several price/application groupings that may not be obvious to most end users. These groupings help explain why epoxy paint prices seem to fall all over the place.

I) 'A TEAM' PREMIUM EPOXIES:
These are the really good, high-end epoxies. There's lots of 'wiggle room' here, but general characteristics of epoxies in this group often are: solvent-free (0% VOC); non-hazmat to ship; suitable for full time immersion, often use a cycloaliphatic curing agent; often can be applied underwater. Might be a novolac based resin, might be potable water (NSF 61) or nuclear (DBA) approved. Applications include: tanks, pits, sumps, pilings, marine hull barrier coats, waste water, manholes. Prices: generally about $80-$90 per gallon.
II) 'B TEAM' EPOXIES:
Many (not all) of these epoxies contain solvents, which generally reduce the physical properties of these epoxies. They are often used as 'tie coats' and general maintenance applications, such as coating machinery, tanks, walls, misc. equipment, etc. Coal Tar epoxies would commonly fall into this group. Prices generally in the $50-$60 per gallon range
III) FLOOR EPOXIES:
Generally self leveling (non-thixotropic) versions of the "B Epoxies" but can sometimes also include the "A Premium Epoxies" and priced about the same. Price: $50-$80 gallon.
IV) EPOXY RESINS/MARINE EPOXIES:
Usually solvent free epoxies from the 'floor epoxy' group, but without the pigments. Savings from not using the pigments (and associated blending) is probably in the order of $5 per gallon, so the 'real' price should be about $40-$60 per gallon, but often the marine (boating) link adds $20 to the pockets of the vendors.
V) EPOXY PRIMERS AND SEALERS:
Generally solvent thinned versions of the marine/resin epoxies, with or without pigment. The amount of solvent used might be 20% to 70%. Cheap to make and cheap in volume for contractors, but small users pay a premium for the blending, packaging, marketing, and the often 'marine' label. Still, coverage is excellent so the cost per square foot is still reasonable. Prices about $45 to $60 per gallon.
Frog Pond Hollow - 48 Wildwood Dr - Pittsfield NH 03263

info@epoxyproducts.com - www.epoxyproducts.com